The New Age: Exploring Creative Tensions Surrounding the Manhattan Project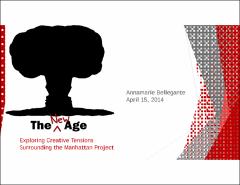 Series
Symposium on Undergraduate Research and Creative Expression
The Symposium provides undergraduates from all academic disciplines with an opportunity to share their research with the university community and other guests through conference-style oral presentations. The Symposium represents part of a larger effort of Iowa State University to enhance, support, and celebrate undergraduate research activity.
Though coordinated by the University Honors Program, all undergraduate students are eligible and encouraged to participate in the Symposium. Undergraduates conducting research but not yet ready to present their work are encouraged to attend the Symposium to learn about the presentation process and students not currently involved in research are encouraged to attend the Symposium to learn about the broad range of undergraduate research activities that are taking place at ISU.
The first Symposium was held in April 2007. The 39 students who presented research and their mentors collectively represented all of ISU's Colleges: Agriculture and Life Sciences, Business, Design, Engineering, Human Sciences, Liberal Arts and Sciences, Veterinary Medicine, and the Graduate College. The event has grown to regularly include more than 100 students presenting on topics that span the broad range of disciplines studied at ISU.
Abstract
What would a conversation be like with people who changed the course of history and scientific discovery? This original play, The New Age, attempts to explore that very question by delving into the events and people surrounding the Manhattan Project. The purpose of this play is not to provide answers; rather, it offers even more questions inspired by this morally ambiguous time in history. Because of Ames Laboratory's involvement with the Manhattan Project, The New Age has a special relationship with and relevance to the Iowa State community. A product of research, collaboration, and creative expression, The New Age presents thought-provoking themes such as the tension between knowledge and experience, invention and ethics, and how today we must cope with the consequences imposed by those who came before us.
Subject Categories
Collections