Understanding the Function of SIGMAR1 Gene in Neurons Using TALEN-mediated Mutagenesis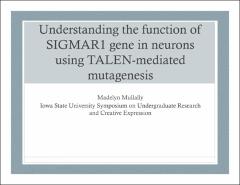 Series
Symposium on Undergraduate Research and Creative Expression
The Symposium provides undergraduates from all academic disciplines with an opportunity to share their research with the university community and other guests through conference-style oral presentations. The Symposium represents part of a larger effort of Iowa State University to enhance, support, and celebrate undergraduate research activity.
Though coordinated by the University Honors Program, all undergraduate students are eligible and encouraged to participate in the Symposium. Undergraduates conducting research but not yet ready to present their work are encouraged to attend the Symposium to learn about the presentation process and students not currently involved in research are encouraged to attend the Symposium to learn about the broad range of undergraduate research activities that are taking place at ISU.
The first Symposium was held in April 2007. The 39 students who presented research and their mentors collectively represented all of ISU's Colleges: Agriculture and Life Sciences, Business, Design, Engineering, Human Sciences, Liberal Arts and Sciences, Veterinary Medicine, and the Graduate College. The event has grown to regularly include more than 100 students presenting on topics that span the broad range of disciplines studied at ISU.
Department
Genetics, Development and Cell Biology
Abstract
Amyotrophic lateral sclerosis, also known as Lou Gehrig's disease, is a neurodegenerative disease caused by the death of motor neurons in the central nervous system. The death of these nerve cells leads to the degeneration of the patient's muscle cells, resulting in paralysis and eventually death. Because the majority of ALS cases are sporadic, there is not a clear understanding of the molecular and genetic mechanisms that lead to the death of the motor neurons. Superoxide dismutase (SOD1) is one gene that has been implicated in ALS, but there are also a large number of genes that are linked to ALS but have not been studied in depth. Sigma non-opioid intracellular receptor 1 (SIGMAR1) is one gene that has been found to have a connection to different forms of ALS, including juvenile ALS, but the relationship between the two is not understood. To gain a better understanding into SIGMAR1's role in the development and death of motor neurons, we are using Tal-effector nuclease (TALEN) mediated mutagenesis to create SIGMAR1 mutant zebrafish. Once created, these fish will hopefully provide insights into the function of SIGMAR1 and allow us to create a new model of nerve cell degeneration.
Subject Categories
Collections