Iowa's "Farms in Name Only"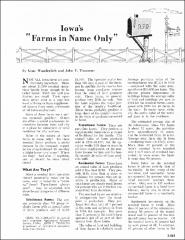 Department
Extension and Experiment Station Publications
Abstract
Not all Iowa farms are commercially important. There are about 21,000 nominal operations barely large enough to be called farms. Their size and production are small. Their operators either exist at a very low level of living or have supplemental income from rents, retirement or off-farm employment.
Subject Categories
Collections