The benefits and challenges hospitality management students experience by working in conjunction with completing their studies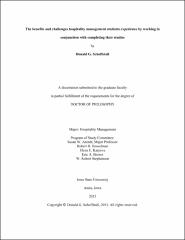 Altmetrics
Department
Apparel, Events and Hospitality Management
Abstract
Previous researchers have suggested that in order to be successful in the hospitality industry, students need to obtain work experience in addition to completing their degrees. Although the benefit of gaining such experience from the industry viewpoint has been well documented, few studies have assessed the benefits and challenges faced by students. The purpose of this research study was to examine the benefits and challenges hospitality students may be confronted with when they work while completing their degrees.
Web-based questionnaires were utilized to gather the responses of hospitality students and hospitality graduates in this nationwide study that included 31 hospitality programs throughout the United States. Comparisons were made between senior-level hospitality students (n = 409) who gained work experience while in school with those who did not and hospitality graduates (n = 308) who gained work experience while in school with those who did not. Furthermore, comparisons were made between students and graduates to determine the early career plans, job achievement expectations, and perceptions of a professional future of hospitality students.
Both benefits and challenges of working while a student were well documented in this research study and statistically significant differences were found between students and graduates and those who worked while in college and those who did not. The majority of students (87.5%) worked while in college with 26.7% of students reporting they worked an average of 21 to 30 hours per week and 23.3% reported working more than 31 hours per week. More graduates who worked while in college were employed full-time in the hospitality industry compared to those who did not (75.5% and 56.4%, respectively). Unique to this study was determining job expectations thereby establishing an initial benchmark for future study. Implications for stakeholders are provided, along with specific suggestions for hospitality programs.
Subject Categories
Copyright
Tue Jan 01 00:00:00 UTC 2013
Collections