Optimization of Sound Pulse Generation for Photoacoustic Sensing Applications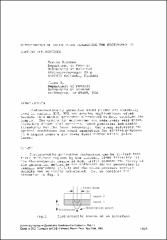 Series
Review of Progress in Quantitative Nondestructive Evaluation
Begun in 1973, the Review of Progress in Quantitative Nondestructive Evaluation (QNDE) is the premier international NDE meeting designed to provide an interface between research and early engineering through the presentation of current ideas and results focused on facilitating a rapid transfer to engineering development.
This site provides free, public access to papers presented at the annual QNDE conference between 1983 and 1999, and abstracts for papers presented at the conference since 2001.
Abstract
Photoacoustically generated sound pulses are currently used in various NDT, NDE and sensing applications, often because this method generates ultrasound without touching the sample. The generation mechanisms are relatively well known, including directional patterns, sound pressures and damage thresholds for the laser intensity. Our study addresses the optimal conditions for sound generation for sensing purposes in a liquid using a low power diode pumped Nd:YAG pulse laser.
Subject Categories
Copyright
Wed Jan 01 00:00:00 UTC 1992
Collections