The NDT of Adhesive Joints Using Ultrasonic Spectroscopy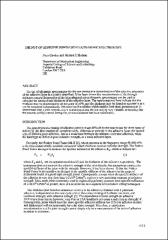 Series
Review of Progress in Quantitative Nondestructive Evaluation
Begun in 1973, the Review of Progress in Quantitative Nondestructive Evaluation (QNDE) is the premier international NDE meeting designed to provide an interface between research and early engineering through the presentation of current ideas and results focused on facilitating a rapid transfer to engineering development.
This site provides free, public access to papers presented at the annual QNDE conference between 1983 and 1999, and abstracts for papers presented at the conference since 2001.
Abstract
The use of ultrasonic spectroscopy for the non-destructive determination of the cohesive properties of the adhesive layer in a joint is described. It has been shown that measurements of the through thickness natural frequencies of the joint obtained using ultrasonic spectroscopy can be used to calculate the modulus and thickness of the adhesive layer. The results reported here indicate that the modulus may be determined to an accuracy of ±6%, and the thickness may be found as accurately as it can be measured independently. No other test is available which enables both these parameters to be determined after a joint is made, and it is anticipated that the test will be very valuable in ensuring that the process quality control during the joint manufacture has been satisfactory.
Copyright
Sun Jan 01 00:00:00 UTC 1989
Collections