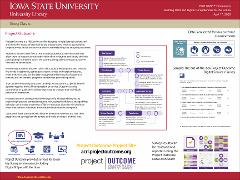 Authors
Organizational Units
Library Assessment
The Iowa State University Library Assessment Program (ISULAP) raises the Library's visibility and promotes the value of its collections, programs, services, and expert staff to multiple audiences both on- and off- campus. Using words, numbers, imagery, and context ISULAP assists users of the library in benefiting from the library and the services the library provides.
Department
Library Information Technology Services
University Library
Abstract
Comments
The following poster was presented at the 2020 CADRE Conference. Posted with permission.
Subject Categories
Copyright
Wed Jan 01 00:00:00 UTC 2020
Collections