Nitrogen additives: What is what, and do they work?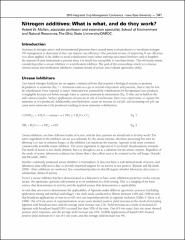 Altmetrics
Series
Proceedings of the Integrated Crop Management Conference
The Iowa State University Integrated Crop Management Conference is Iowa's premier crop production education event. No other program in Iowa brings together the diverse range of topics, slate of expert presenters and results of the latest University research.
The ICM Conference offers workshops focusing on the latest in crop production technology. Experts from Iowa and surrounding states will provide research updates and results in soil fertility, soil and water management, crop production and pest management.
Abstract
Increases in nitrogen prices and environmental pressures have caused many corn producers to reevaluate nitrogen (N) management to determine if they can improve use efficiency. One potential avenue of improving N use efficiency is to allow applied N the ability to avoid volatilization losses when utilizing urea-based fertilizers and to lengthen the amount of time ammonium is present since it is much less susceptible to loss than nitrate. This obviously means considering either a urease inhibitor or a nitrification inhibitor. The goal of this proceedings article is to discuss various urease and nitrification inhibitors, examine modes of action, and evaluate agronomic utility.
Subject Categories
Collections