Advocacy through Appearance: An Exploration of Professional Identity, Self-Sufficiency, and the Clothing-Related Non-Profit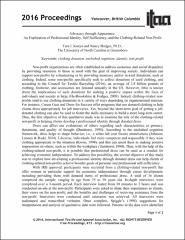 Series
International Textile and Apparel Association (ITAA) Annual Conference Proceedings
The first national meeting of textile and clothing professors took place in Madison, Wisconsin in June 1959. With a mission to advance excellence in education, scholarship and innovation, and their global applications, the International Textile and Apparel Association (ITAA) is a professional and educational association of scholars, educators, and students in the textile, apparel, and merchandising disciplines in higher education.
This site provides free, public access to the ITAA annual conference proceedings beginning in 2015. Previous proceedings can be found by following the "Additional ITAA Proceedings" link on the left sidebar of this page.
Abstract
Non-profit organizations are often established to address economic and social disparities by providing resources to those in need, with the goal of improving society. The following qualitative study looks to examine the role of the clothing-related non-profit in helping clients develop a professional identity through donated dress. In order to look beyond the short-term goal of getting a job, in-depth interviews were administered to 36 participants. Utilizing the enclothed cognition framework, an understanding of how donated clothing can also be used to foster the skills necessary to build a long-term career was developed. Thus, with the help of the clothing-related non-profit, it is possible that professional dress can be used as a conduit for achieving economic independence. To address this possibility, the study will also explore how developing a professional identity through donated dress can help clients of clothing-related non-profits achieve broader goals of personal and professional self-sufficiency.
Subject Categories
Collections