Ultrasonic Techniques to Produce Damage Profiles through the Thickness of a Sample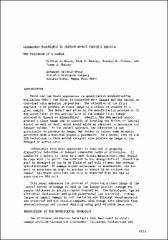 Series
Review of Progress in Quantitative Nondestructive Evaluation
Begun in 1973, the Review of Progress in Quantitative Nondestructive Evaluation (QNDE) is the premier international NDE meeting designed to provide an interface between research and early engineering through the presentation of current ideas and results focused on facilitating a rapid transfer to engineering development.
This site provides free, public access to papers presented at the annual QNDE conference between 1983 and 1999, and abstracts for papers presented at the conference since 2001.
Abstract
There are two basic approaches to quantitative nondestructive evaluation (NDE); the first is concerned with images and the second is concerned with material properties. The objective of the first approach is to produce an exact image of a defect or anomaly in a given sample. The defect may arise in the manufacturing process or it may occur later in the service life of the sample (i. e. damage produced by impact or mishandling). Ideally, the NDE method should produce a clear image and be capable of locating the defect in lateral extent as well as depth which would allow an observer to determine the damaged volume. In the second approach, the objective is not principally to produce an image, but rather to relate some acoustic parameter with a material property parameter. As a bonus, some of the NDE techniques in this second category also produce an image of the damaged or defect area.
Subject Categories
Copyright
Sat Aug 01 00:00:00 UTC 1987
Collections