Ultrasonic Periodontal Probe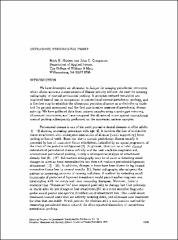 Series
Review of Progress in Quantitative Nondestructive Evaluation
Begun in 1973, the Review of Progress in Quantitative Nondestructive Evaluation (QNDE) is the premier international NDE meeting designed to provide an interface between research and early engineering through the presentation of current ideas and results focused on facilitating a rapid transfer to engineering development.
This site provides free, public access to papers presented at the annual QNDE conference between 1983 and 1999, and abstracts for papers presented at the conference since 2001.
Abstract
We have developed an ultrasonic technique for imaging periodontal structures which allows accurate measurements of disease activity without the need for ionizing radiography or manual periodontal probing. It promises reduced variability and improved ease of use, in comparison to conventional manual periodontal probing, and is the first step to establish the ultrasound periodontal probe as a clinically-valuable tool for patient assessment and the first non-invasive measure of periodontal disease activity. We have gathered data from cadaver samples using a prototype intra-oral ultrasound instrument, and have compared the ultrasound scans against conventional manual probing subsequently performed on the annotated cadaver samples.
Subject Categories
Copyright
Fri Jan 01 00:00:00 UTC 1999
Collections