The Development of an Electronic Holography System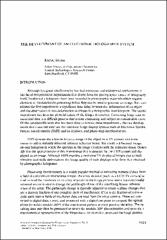 Series
Review of Progress in Quantitative Nondestructive Evaluation
Begun in 1973, the Review of Progress in Quantitative Nondestructive Evaluation (QNDE) is the premier international NDE meeting designed to provide an interface between research and early engineering through the presentation of current ideas and results focused on facilitating a rapid transfer to engineering development.
This site provides free, public access to papers presented at the annual QNDE conference between 1983 and 1999, and abstracts for papers presented at the conference since 2001.
Abstract
Although hologram interferometry has had numerous and widespread applications, it has faced two persistent impediments that derive from the photographic nature of holography itself. Traditionally holograms have been recorded in photographic materials which require chemical or thermoelectric processing before they can be used to generate an image. This constitutes the first impediment: a significant time delay between the deformation of an object and the observation of that deformation as fringes in a holographic interferogram. The second impediment has been the pictorial nature of the fringes themselves. Converting fringe data to numerical data is a difficult process that is time consuming and subject to considerable error. Of the considerable work that has been done to remove these impediments, the two developments that stand out most are the real-time fringe display systems such as Electronic Speckle Pattern Interferometry (ESPI) and its relatives, and phase-step interferometers.
Subject Categories
Copyright
Mon Jan 01 00:00:00 UTC 1990
Collections