Location, location, location: place-specific human capital, rural firm entry and firm survival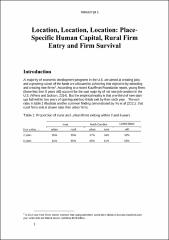 Abstract
A majority of economic development programs in the U.S. are aimed at creating jobs; and a growing subset of the funds are allocated to achieving that objective by attracting and creating new firms1. According to a recent Kauffman Foundation report, young firms (those less than 5 years old) account for the vast majority of net new job creation in the U.S. (Wiens and Jackson, 2014). But the empirical reality is that one-third of new start-ups fail within two years of opening and two-thirds exit by their sixth year . The exit rates in table 1 illustrate another common finding demonstrated by Yu et al (2011): that rural firms exit at slower rates than urban firms.
Comments
This is a draft chapter/article. The final version is available in Globalization, International Spillovers and Sectoral Changes: Implications for Regions and Industries edited by C Karlsson, A. Cornett, and T. Wallin, eds, published in 2018, Edward Elgar Publishing Ltd
https://doi.org/10.4337/9781786432483.00015.
The material cannot be used for any other purpose without further permission of the publisher, and is for private use only.
Subject Categories
Copyright
Mon Jan 01 00:00:00 UTC 2018
Collections