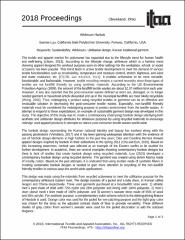 Series
International Textile and Apparel Association (ITAA) Annual Conference Proceedings
The first national meeting of textile and clothing professors took place in Madison, Wisconsin in June 1959. With a mission to advance excellence in education, scholarship and innovation, and their global applications, the International Textile and Apparel Association (ITAA) is a professional and educational association of scholars, educators, and students in the textile, apparel, and merchandising disciplines in higher education.
This site provides free, public access to the ITAA annual conference proceedings beginning in 2015. Previous proceedings can be found by following the "Additional ITAA Proceedings" link on the left sidebar of this page.
Abstract
The objective of this study was to create a contemporary hanbok design satisfying both aesthetic and utilitarian design attributes for athleisure purposes by using recycled materials to encourage redesign used apparel products in attempts to reduce post-consumer textile wastes world-wide. This design was made using the materials from recycled activewear to meet the utilitarian purpose for the contemporary athleisure Eastern look. For aesthetic purpose, a complementary color scheme which is the distinguishing feature of hanbok is used. The design consists of a jacket and a tube dress with all pieces of the design made using parts of the recycled garments except for the metal buttons for the jacket closure. This versatile design application may lead to positive consumer perception towards the upcycled garment purchase in Eastern looks. Furthermore, this design may contribute to encourage redesign the used garments in attempts to reduce the post-consumer textile wastes world-wide.
Subject Categories
Collections