Nondestructive Evaluation of Fatigue Damage Using Magnetic Measurement Techniques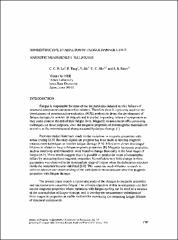 Series
Review of Progress in Quantitative Nondestructive Evaluation
Begun in 1973, the Review of Progress in Quantitative Nondestructive Evaluation (QNDE) is the premier international NDE meeting designed to provide an interface between research and early engineering through the presentation of current ideas and results focused on facilitating a rapid transfer to engineering development.
This site provides free, public access to papers presented at the annual QNDE conference between 1983 and 1999, and abstracts for papers presented at the conference since 2001.
Abstract
Fatigue is responsible for most of the mechanically-induced service failures of structural components encountered in industry. Therefore there is a pressing need for the development of nondestructive evaluation (NDE) methods to detect the development of fatigue damage, to monitor its progress and to predict impending failure of components as they come close to the end of their fatigue lives. Magnetic measurements offer promising techniques for these purposes, since the magnetic properties of ferromagnetic materials are sensitive to the microstructural changes caused by fatigue damage [1].
Copyright
Fri Jan 01 00:00:00 UTC 1999
Collections