A Free Woman of Color from New York and a Rural Southern Woman from Louisiana: A Comparison of Mid-Nineteenth Century Burial Dress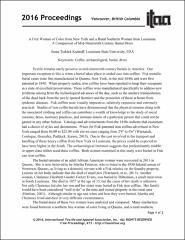 Series
International Textile and Apparel Association (ITAA) Annual Conference Proceedings
The first national meeting of textile and clothing professors took place in Madison, Wisconsin in June 1959. With a mission to advance excellence in education, scholarship and innovation, and their global applications, the International Textile and Apparel Association (ITAA) is a professional and educational association of scholars, educators, and students in the textile, apparel, and merchandising disciplines in higher education.
This site provides free, public access to the ITAA annual conference proceedings beginning in 2015. Previous proceedings can be found by following the "Additional ITAA Proceedings" link on the left sidebar of this page.
Abstract
Burial dress of two women recovered from cast iron coffin burials in cemeteries in New York and South Louisiana were analyzed and compared. Many similarities were found between a northern free woman of color living in Queens, and a rural southern woman living in Thibodaux. One might expect very different burial practices between women from such different cultural and geographic circumstances, but this was not seen in the archaeological remains. Both women were buried with a carved hair comb and dressed in night clothes that had been worn and repaired during life. All garments were made of undyed cotton and were hand sewn. Both were wearing knit stockings and a chemise under their gowns. Research has indicated that mid-nineteenth century American burial dress often fell into two categories related to common metaphors of death from the same time period: those dressed for "sleep" and those dressed for "travel."
Subject Categories
Collections