Buyers' Power on Suppliers' Motivation to Engage in Managing their Compliance Mechanisms: Case of Indian Apparel Export Firms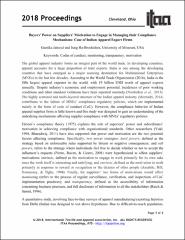 Series
International Textile and Apparel Association (ITAA) Annual Conference Proceedings
The first national meeting of textile and clothing professors took place in Madison, Wisconsin in June 1959. With a mission to advance excellence in education, scholarship and innovation, and their global applications, the International Textile and Apparel Association (ITAA) is a professional and educational association of scholars, educators, and students in the textile, apparel, and merchandising disciplines in higher education.
This site provides free, public access to the ITAA annual conference proceedings beginning in 2015. Previous proceedings can be found by following the "Additional ITAA Proceedings" link on the left sidebar of this page.
Abstract
This research proposes a buyer-supplier power-motivation interaction model that clarifies what multinational enterprises (MNEs) could do to encourage apparel suppliers' to implement code of conduct (CoCs) policies successfully in the apparel supply chain. Specifically, the aim of this study was to investigate how MNEs enforce CoC policies and how they affect suppliers' motivation to engage themselves in managing CoC compliance mechanisms of monitoring, enforcement and transparency, in the Indian apparel industry. A quantitative survey was conducted using face-to-face survey. Overall, 210 usable data was collected and analyzed by using structural equation modeling technique. Study findings highlighted that, of the two power strategies, only hard power was found applicable in the apparel Indian market. Nevertheless, among the different nature of hard power strategies, MNEs were found to use mainly authoritative/coercive strategies that induced only extrinsic motivation in suppliers. Due to this, suppliers were found to primarily engaged in CoC monitoring mechanisms, while not the transparency mechanisms. Based on these findings, it was concluded that inducing both intrinsic and extrinsic motivation in suppliers is important for buyers (MNEs) in order to develop a holistic CoC compliance mechanisms at suppliers' base. Overall, this study contributes uniquely to the literature by offering a deeper insight into the interactive nature of the buyer-supplier compliance-influencing process.
Subject Categories
Collections