Characterization of Non-Symmetrical Damage in Smart Plate-Like Structures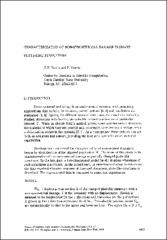 Series
Review of Progress in Quantitative Nondestructive Evaluation
Begun in 1973, the Review of Progress in Quantitative Nondestructive Evaluation (QNDE) is the premier international NDE meeting designed to provide an interface between research and early engineering through the presentation of current ideas and results focused on facilitating a rapid transfer to engineering development.
This site provides free, public access to papers presented at the annual QNDE conference between 1983 and 1999, and abstracts for papers presented at the conference since 2001.
Abstract
Smart material technology is an active area of research, with promising applications that include, for instance, control systems [2, 8] and nondestructive evaluation [3, 8]. Among the different types of smart material structures currently studied, structures with bonded piezoelectric ceramic patches are of particular interest [6]. When an electric field is applied, piezoceramic patches induce strains in the material to which they are bonded and, conversely, they produce a voltage when a deformation occurs in the material [7, 8]. As a consequence, these patches can act both as actuators and sensors, providing the host structure with smart material capabilities.
Copyright
Thu Jan 01 00:00:00 UTC 1998
Collections