Voices From Women's Wardrobes: Mid-Life and Self-Image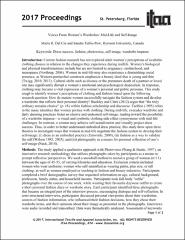 Series
International Textile and Apparel Association (ITAA) Annual Conference Proceedings
The first national meeting of textile and clothing professors took place in Madison, Wisconsin in June 1959. With a mission to advance excellence in education, scholarship and innovation, and their global applications, the International Textile and Apparel Association (ITAA) is a professional and educational association of scholars, educators, and students in the textile, apparel, and merchandising disciplines in higher education.
This site provides free, public access to the ITAA annual conference proceedings beginning in 2015. Previous proceedings can be found by following the "Additional ITAA Proceedings" link on the left sidebar of this page.
Abstract
Current fashion research has not explored adult women's perceptions of available clothing choices in relation to changes they experience during midlife. Physical and cultural shifts such as menopause, divorce, or the premature death of a partner may significantly disrupt a woman's disposition. In response, clothing may become a vital expression of their personal and public personas. To better understand embodied dress practice, the ways that women in mid-life negotiate the fashion system to develop their self-image were investigated using Photovoice. Women (n=11) between the ages of 45-55, took full-body selfies dressed in their favourite daywear outfits and discussed the photographs in a semi structured interview. Results were categorized according to common themes: past and present fashion influences, shopping behaviours, wardrobe building strategies, as well as common strategies used to navigate the fashion system in order to establish a wardrobe that reflected their self-image. Findings are important to fashion designers, retailers and marketers.
Subject Categories
Collections