An Automated Real-Time Imaging System for Inspection of Composite Structures in Aircraft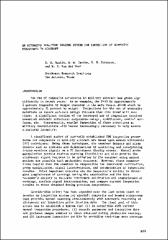 Series
Review of Progress in Quantitative Nondestructive Evaluation
Begun in 1973, the Review of Progress in Quantitative Nondestructive Evaluation (QNDE) is the premier international NDE meeting designed to provide an interface between research and early engineering through the presentation of current ideas and results focused on facilitating a rapid transfer to engineering development.
This site provides free, public access to papers presented at the annual QNDE conference between 1983 and 1999, and abstracts for papers presented at the conference since 2001.
Abstract
The use of composite structures in military aircraft has grown significantly in recent years. As an example, the F-15 is approximately 2 percent composite by weight compared to the more recent AV-8B which is approximately 31 percent by weight. Projections for the use of composite materials in future aircraft design indicate that this trend will continue. A significant portion of the increased use of composites involves essential aircraft structural components—wings, stabilators, control surfaces, etc. Consequently, regular inspection of these structures at military installations will become increasingly necessary to help assure structural integrity.
Copyright
Thu Jan 01 00:00:00 UTC 1987
Collections