Scattering Induced Attenuation of Ultrasonic Backscattering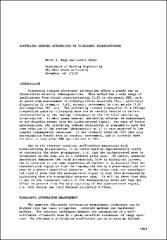 Series
Review of Progress in Quantitative Nondestructive Evaluation
Begun in 1973, the Review of Progress in Quantitative Nondestructive Evaluation (QNDE) is the premier international NDE meeting designed to provide an interface between research and early engineering through the presentation of current ideas and results focused on facilitating a rapid transfer to engineering development.
This site provides free, public access to papers presented at the annual QNDE conference between 1983 and 1999, and abstracts for papers presented at the conference since 2001.
Abstract
Scattering induced ultrasonic attenuation offers a simple way to characterize material inhomogeneities. This method has a wide range of applications from tissue characterization [1,2] to ultrasonic NDE, such as grain size measurement in polycrystalline materials [3,4], structural diagnostics in ceramics [5,6], porosity assessment in cast metals [7,8] and composites [9], etc. The scattering induced attenuation of a through transmitted coherent ultrasonic wave can be readily related to certain characteristics of the average inhomogeneity via its total scattering cross-section. In many cases however, ultrasonic attenuation measurement is not feasible except from the backscattered signal. For want of better approximation, the scattering induced attenuation is presumed to have the same relation to the average inhomogeneity as if it were measured by the simpler transmission technique. It was recently reported [10] that this approximation breaks down in porosity assessment, and it probably does not work in many other NDE applications either.
Subject Categories
Copyright
Fri Jan 01 00:00:00 UTC 1988
Collections