Modeling of Real UT Transducer Field/Flaw Interactions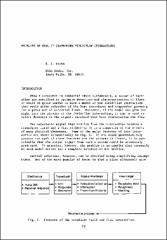 Series
Review of Progress in Quantitative Nondestructive Evaluation
Begun in 1973, the Review of Progress in Quantitative Nondestructive Evaluation (QNDE) is the premier international NDE meeting designed to provide an interface between research and early engineering through the presentation of current ideas and results focused on facilitating a rapid transfer to engineering development.
This site provides free, public access to papers presented at the annual QNDE conference between 1983 and 1999, and abstracts for papers presented at the conference since 2001.
Abstract
When a component is inspected using ultrasonics, a number of variables are specified to optimize detection and characterization of flaws. It would be quite useful to have a model of the field/flaw interaction that would allow selection of the best transducer and inspection geometry for a given set of potential flaws. Moreover, if the model can give insight into the physics of the field/flaw interaction, it can be used to select features in the signals received that best characterize the flaw.
Subject Categories
Copyright
Tue Jan 01 00:00:00 UTC 1985
Collections