Examining e-extension: diffusion, disruption, and rate of adoption among Iowa State University Extension and Outreach professionals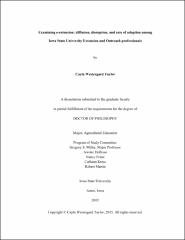 Altmetrics
Department
Agricultural Education and Studies
Abstract
The purpose of this study was to assess the perceptions of eXtension held by Iowa Extension professionals and their rate of adoption of the online resource using Rogers's (2003) diffusion of innovations theory and Christensen's (1997) disruptive innovation theory. Specifically, the study looked at Iowa Extension professionals' perceptions and stage of adoption of eXtension. The study also examined the relationship among Iowa Extension professionals' background characteristics and their perceptions of the online resource in addition to whether respondents' perceptions of eXtension predicted stage of adoption. A census survey was disseminated to 975 Iowa State University Extension and Outreach professionals. A final response rate of 44% (n=429) was obtained and included the respondents from the pilot study.
The highest number of respondents reported that they were familiar with eXtension--persuasion stage and third stage of adoption (n=139, 32.63%). One quarter of the respondents remained at the no knowledge stage of eXtension (n=109, 25.59%), 16% of respondents were at the knowledge stage (n=68), less than 1% were at the decision stage (n=3), 15% were at the implementation stage (n=65), and 10% were at the highest stage of confirmation (n=42). 75% of Iowa Extension professionals indicated have made a decision to use or not use eXtension in their work.
Respondents were shown to have more favorable perceptions of eXtension's perceived relative advantage, accessibility and capacity attributes, while the compatibility, complexity, observability, trialability, affordability, responsiveness, and customization attributes were neutrally perceived. In addition, eXtension was perceived to exhibit only two of the disruptive innovation attributes (accessibility and capacity). The technology was perceived to lack the degree of affordability, responsiveness and customization needed to become a disruptive innovation.
As respondents' age, educational attainment and years of employment in Cooperative Extension increased, their perceived trialability of eXtension was also shown to increase. In addition, the perceived attributes of eXtension explained 26% of the variance in membership at one of two levels of adoption--the higher level of adoption or lower level of awareness. The complexity, trialability and customization attributes were shown to have a statistically significant influence on predicting the odds of attaining the higher level of adoption of eXtension.
Subject Categories
Copyright
Thu Jan 01 00:00:00 UTC 2015
Collections