Science Girls Aren't Freaks...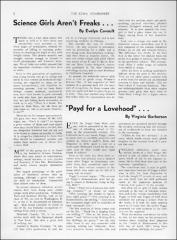 Department
Iowa State University Digital Repository
Abstract
There was a time when ladies who made so bold as o drive their own automobiles were pictured on the front pages of newspapers, without the necessity of killing or maiming pedestrians or disputing the right of way with freight trains. The pioneer aviatrix was thought curious enough in herself to merit photographs and featured write-ups. We of today are mildly amused that our immediate forebears could have been so naive.
Subject Categories
Collections