A Three-Dimensional Boundary Element Model for Eddy Current NDE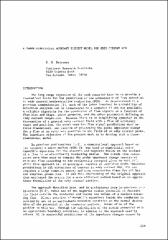 Series
Review of Progress in Quantitative Nondestructive Evaluation
Begun in 1973, the Review of Progress in Quantitative Nondestructive Evaluation (QNDE) is the premier international NDE meeting designed to provide an interface between research and early engineering through the presentation of current ideas and results focused on facilitating a rapid transfer to engineering development.
This site provides free, public access to papers presented at the annual QNDE conference between 1983 and 1999, and abstracts for papers presented at the conference since 2001.
Abstract
The long-range objective of the work reported here is to provide a theoretical basis for the prediction of the probability of flaw detection in eddy current nondestructive evaluation (NDE). As demonstrated in a previous communication [1], much of the labor involved in probability of detection analyses can be transferred to a computer if one has available a reliable algorithm for the prediction of flaw signals as a function of flaw size and shape, probe geometry, and the other parameters defining an eddy current inspection. Because there is no simplifying symmetry in the interaction of a general eddy current field with a flaw of arbitrary shape and position, the model used for flaw signal predictions must be three dimensional, and capable of predicting the probe impedance change for a flaw at an arbitrary position in the field of an eddy current probe. The immediate objective of the present work is to develop such a three-dimensional model.
Subject Categories
Copyright
Sun Jan 01 00:00:00 UTC 1989
Collections