A Protocol for the Evaluation of Coverall Fit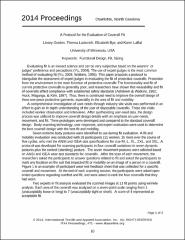 Series
International Textile and Apparel Association (ITAA) Annual Conference Proceedings
The first national meeting of textile and clothing professors took place in Madison, Wisconsin in June 1959. With a mission to advance excellence in education, scholarship and innovation, and their global applications, the International Textile and Apparel Association (ITAA) is a professional and educational association of scholars, educators, and students in the textile, apparel, and merchandising disciplines in higher education.
This site provides free, public access to the ITAA annual conference proceedings beginning in 2015. Previous proceedings can be found by following the "Additional ITAA Proceedings" link on the left sidebar of this page.
Abstract
Evaluating fit is an inexact science and can be very subjective based on the wearers' or judges' preference and perceptions (Yu, 2004). The use of expert judges is the most common method of evaluating fit (Yu, 2004; Watkins, 1995). This paper proposes a protocol to triangulate the assessment of expert judges in evaluating the fit of protective coveralls. Protection from the environment is the main function of protective coveralls The functionality and fit of current protective coveralls is generally poor, and researchers have shown that wearability and fit of coveralls affect compliance with established safety standards (Ashdown & Watkins, 1992; Huck, Maganga, & Kim, 1997).
Subject Categories
Collections