Magnetic Resonance Imaging and Spectroscopy using Squid Detection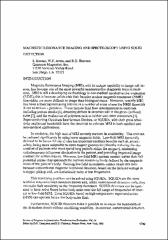 Series
Review of Progress in Quantitative Nondestructive Evaluation
Begun in 1973, the Review of Progress in Quantitative Nondestructive Evaluation (QNDE) is the premier international NDE meeting designed to provide an interface between research and early engineering through the presentation of current ideas and results focused on facilitating a rapid transfer to engineering development.
This site provides free, public access to papers presented at the annual QNDE conference between 1983 and 1999, and abstracts for papers presented at the conference since 2001.
Abstract
Magnetic Resonance Imaging (MRI), with its unique capability to image soft tissues, has become one of the most powerful nondestructive diagnostic tools in medicine. MRI is still a developing methodology in non-medical nondestructive evaluation (NDE); this is because solids with their broader nuclear magnetic resonance (NMR) linewidths are more difficult to image than biological tissue. However, recently MRI has been attracting increasing interest in a number of areas where the NMR linewidth is not as serious a problem. These include fluid flow determination in materials including porous media [1], detecting defects in ceramics still in the green (unfired) state [2], and the evaluation of polymers such as rubber and other elastomers [3]. Superconducting Quantum Interference Devices, or SQUIDs, with their great sensitivity and broad bandwidth have the potential to enhance MRI in both medical and non-medical applications.
Copyright
Sun Jan 01 00:00:00 UTC 1995
Collections