Creating a Greener Gap: An Environmental Proposal for Gap Inc. and Other Retail Companies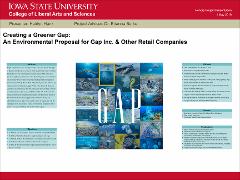 Series
Honors Projects and Posters
The Honors project is potentially the most valuable component of an Honors education. Typically Honors students choose to do their projects in their area of study, but some will pick a topic of interest unrelated to their major.
The Honors Program requires that the project be presented at a poster presentation event. Poster presentations are held each semester. Most students present during their senior year, but may do so earlier if their honors project has been completed.
This site presents project descriptions and selected posters for Honors projects completed since the Fall 2015 semester.
Abstract
Single-use plastic waste is creating a plague across the planet. This type of plastic is found in every aspect of our lives, from the water we drink to the produce we buy to the hygienic products we use. One of the most prevalent single-use plastic forms is the plastic bag. It is second nature in our consumer-driven society to receive everything we buy wrapped or placed in a plastic bag. We use them at the grocery store, the mall, the gas station, and in our Amazon packages. When we're done with them, we sometimes reuse them once, but they always end up in the trash, or more accurately, the trees, the ocean, and ditches on the side of the road. The research presented in this paper delves deeper into the issue of plastic in the retail marketplace, focusing primarily on Gap Inc. Using data collected from one of Gap's stores and five years of experience with the company to form my analysis, I make environmental proposals to limit plastic waste created by Gap and similar retail companies.
Collections