Measurements of Longitudinal-Wave Velocity in IIW-Type Calibration Blocks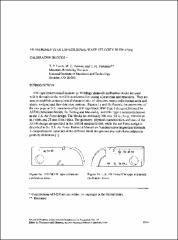 Series
Review of Progress in Quantitative Nondestructive Evaluation
Begun in 1973, the Review of Progress in Quantitative Nondestructive Evaluation (QNDE) is the premier international NDE meeting designed to provide an interface between research and early engineering through the presentation of current ideas and results focused on facilitating a rapid transfer to engineering development.
This site provides free, public access to papers presented at the annual QNDE conference between 1983 and 1999, and abstracts for papers presented at the conference since 2001.
Abstract
IIW-type (International Institute of Welding) ultrasonic calibration blocks are used widely throughout the world in nondestructive testing of materials and structures. They are used to establish certain physical characteristics of ultrasonic search units (transducers and plastic wedges) and flaw detection systems. Figures la and lb illustrate the geometries of the two popular U.S. variations of the IIW-type block: IIW-Type 1 design referenced by ASTM (American Society for Testing and Materials), and IIW-Type 2 commonly known as the U.S. Air Force design. The blocks are nominally 300 mm (12 in.) long, 100 mm (4 in.) wide, and 25 mm (1 in.) thick. The geometry, physical characteristics, and uses of the ASTM design are specified in the ASTM standard E-164, while the Air Force design is described in the U.S. Air Force Technical Manual on Nondestructive Inspection Methods. A comprehensive summary of the different block designs and physical characteristics is given by Hotchkiss [1].
Copyright
Fri Jan 01 00:00:00 UTC 1999
Collections