Time-Gating of Pulsed Eddy Current Signals for Defect Characterization and Discrimination in Aircraft Lap-Joints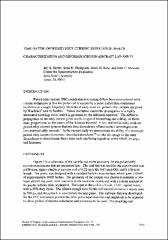 Series
Review of Progress in Quantitative Nondestructive Evaluation
Begun in 1973, the Review of Progress in Quantitative Nondestructive Evaluation (QNDE) is the premier international NDE meeting designed to provide an interface between research and early engineering through the presentation of current ideas and results focused on facilitating a rapid transfer to engineering development.
This site provides free, public access to papers presented at the annual QNDE conference between 1983 and 1999, and abstracts for papers presented at the conference since 2001.
Abstract
Pulsed eddy current (PEC) nondestructive testing differs from conventional eddy current techniques in that the probe coil is excited by a pulse, rather than continuous excitation at a single frequency. Reviews of early work on pulsed eddy currents are given by Waidelich1 and by Renkin.2 Pulsed excitation causes the propagation of a highly attenuated traveling wave, which is governed by the diffusion equation.3 The diffusive propagation of the eddy current pulse results in spatial broadening and a delay, or travel time, proportional to the square of the distance traveled. It was realized in early work on pulsed eddy current systems that this time dependence offered certain advantages over conventional eddy currents.4 In the current study we demonstrate the ability of a prototype pulsed eddy current instrument, described elsewhere,5,6 to take advantage of this time dependence to discriminate flaws from such interfering signals as probe liftoff, air gaps, and fasteners.
Copyright
Wed Jan 01 00:00:00 UTC 1997
Collections