Learning Professional Dress through Peer-Evaluation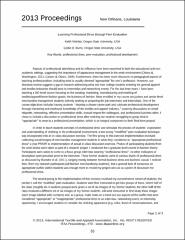 Series
International Textile and Apparel Association (ITAA) Annual Conference Proceedings
The first national meeting of textile and clothing professors took place in Madison, Wisconsin in June 1959. With a mission to advance excellence in education, scholarship and innovation, and their global applications, the International Textile and Apparel Association (ITAA) is a professional and educational association of scholars, educators, and students in the textile, apparel, and merchandising disciplines in higher education.
This site provides free, public access to the ITAA annual conference proceedings beginning in 2015. Previous proceedings can be found by following the "Additional ITAA Proceedings" link on the left sidebar of this page.
Abstract
Aspects of professional attire/dress and its influence have been examined in both the educational and nonacademic settings, suggesting the importance of appearance management in the work environment (Okoro & Washington, 2011; Cardon & Okoro, 2009). Furthermore, there has been much discourse on pedagogical aspects of teaching professionalism, including what is usually deemed 'appropriate' for one's profession. However, our literature review suggests a gap in research addressing what and how college students entering the general apparel and textiles industries should wear to internships and networking events. For the last three years, I have been teaching a 300 level course focusing on the creating, marketing, manufacturing and retailing of textiles/apparel/home fashion goods; the business of fashion.
Subject Categories
Collections