Comparison of Calculated Ultrasonic Scattering with Experimental Observations in Welded Samples with Various Defects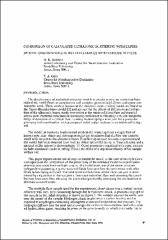 Series
Review of Progress in Quantitative Nondestructive Evaluation
Begun in 1973, the Review of Progress in Quantitative Nondestructive Evaluation (QNDE) is the premier international NDE meeting designed to provide an interface between research and early engineering through the presentation of current ideas and results focused on facilitating a rapid transfer to engineering development.
This site provides free, public access to papers presented at the annual QNDE conference between 1983 and 1999, and abstracts for papers presented at the conference since 2001.
Abstract
The development of analytical computer models to predict ultrasonic scattering from individual, small flaws in components with complex geometries [1,2] has undergone considerable work. These models, known as the ultrasonic measurement model, are based on the Gauss-Hermite beam model [2] and account for the effects of diffraction and refraction of the ultrasonic beam, mode conversion at the water-solid interface and material attenuation. Potential uses include increasing confidence in obtaining a reasonable probability of detection of a critical flaw, assisting in developing a scan plan for a particular geometry and combination with a computer aided design package as an additional design aid.
Copyright
Sun Jan 01 00:00:00 UTC 1995
Collections