Development and Evaluation of Nurses' Scrub Jacket Through the Functional Design Process (MS - 1st place)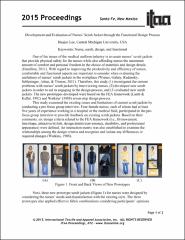 Series
International Textile and Apparel Association (ITAA) Annual Conference Proceedings
The first national meeting of textile and clothing professors took place in Madison, Wisconsin in June 1959. With a mission to advance excellence in education, scholarship and innovation, and their global applications, the International Textile and Apparel Association (ITAA) is a professional and educational association of scholars, educators, and students in the textile, apparel, and merchandising disciplines in higher education.
This site provides free, public access to the ITAA annual conference proceedings beginning in 2015. Previous proceedings can be found by following the "Additional ITAA Proceedings" link on the left sidebar of this page.
Abstract
This study examined the existing issues and limitations of current scrub jackets by conducting a pre-focus group interview. Four female nurses, each of whom had at least five years of experience working in a hospital or the medical field, participated in the pre-focus group interview to provide feedback on existing scrub jackets. Based on their comments, six design criteria related to the FEA framework (i.e., fit/movement, line/shape, attractive/stylish, design details/convenience, durability, and professional appearance) were defined.
Subject Categories
Collections