Quantitative Assessment of Plastic Deformation Via Acoustic Microscopy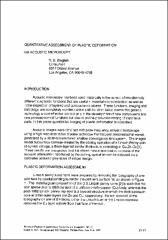 Series
Review of Progress in Quantitative Nondestructive Evaluation
Begun in 1973, the Review of Progress in Quantitative Nondestructive Evaluation (QNDE) is the premier international NDE meeting designed to provide an interface between research and early engineering through the presentation of current ideas and results focused on facilitating a rapid transfer to engineering development.
This site provides free, public access to papers presented at the annual QNDE conference between 1983 and 1999, and abstracts for papers presented at the conference since 2001.
Abstract
Acoustic microscopy has been used historically in the pursuit of two distinctly different diagnostic functions that are useful in material characterization as well as in the inspection of layered and composite structures. These functions, imaging and metrology, are completely nondestructive and the latter factor makes this generic technology a cost-effective tool not only in the development of new components and new process-control functions but also in on-line production testing of expensive parts. In this paper quantitative imaging of plastic deformation is described.
Subject Categories
Copyright
Fri Jan 01 00:00:00 UTC 1993
Collections