Time Dependent Pulse Propagation and Scattering in Elastic Solids; an Asymptotic Theory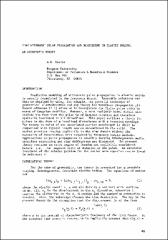 Series
Review of Progress in Quantitative Nondestructive Evaluation
Begun in 1973, the Review of Progress in Quantitative Nondestructive Evaluation (QNDE) is the premier international NDE meeting designed to provide an interface between research and early engineering through the presentation of current ideas and results focused on facilitating a rapid transfer to engineering development.
This site provides free, public access to papers presented at the annual QNDE conference between 1983 and 1999, and abstracts for papers presented at the conference since 2001.
Abstract
Predictive modeling of ultrasonic pulse propagation in elastic solids is usually formulated in the frequency domain. Tractable solutions can then be obtained by using, for example, the powerful technique of geometrical elastodynamics and ray theory for wavefront propagation [1]. Recent advances [2,3] allow us to incorporate the finite pulse width by means of Gaussian profiles. However, a more realistic model should also include the fact that the pulse is of limited duration and therefore spatially localized in all directions. This paper outlines a theory for pulses in the form of a localized disturbance with a Gaussian envelope. The theory is valid if the associated carrier wavelength is short in comparison with typical length scales encountered in the solid. The method provides results explicitly in the time domain without the necessity of intermediate FFTs required by frequency domain methods. Applications to pulse propagation in smoothly varying inhomogeneous media, interface scattering and edge diffraction are discussed. The present theory contains an extra degree of freedom not explicitly considered before, i. e., the temporal width or duration of the pulse. An extensive treatment of the related problem for the scalar wave equation can be found in reference 4.
Subject Categories
Copyright
Thu Jan 01 00:00:00 UTC 1987
Collections