Barkhausen Noise Analysis by Surrounding Coil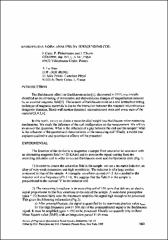 Series
Review of Progress in Quantitative Nondestructive Evaluation
Begun in 1973, the Review of Progress in Quantitative Nondestructive Evaluation (QNDE) is the premier international NDE meeting designed to provide an interface between research and early engineering through the presentation of current ideas and results focused on facilitating a rapid transfer to engineering development.
This site provides free, public access to papers presented at the annual QNDE conference between 1983 and 1999, and abstracts for papers presented at the conference since 2001.
Abstract
The Barkhausen effect (or Barkhausen noise)[1], discovered in 1919, was initially identified as the revealing of irreversible and discontinuous changes of magnetisation induced by an external magnetic field[2]. The interest of Barkhausen noise as a non destructive testing technique of magnetic materials is due to the interaction between the magnetic microstructure (magnetic domains, Bloch wall motion dynamic), microstructural state and stress state of the material [3,4,5,6].
Copyright
Sun Jan 01 00:00:00 UTC 1995
Collections