Multiparameter Ultrasonic Evaluation of Ceramic Matrix Composites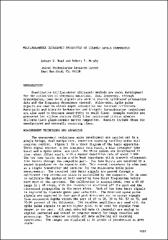 Series
Review of Progress in Quantitative Nondestructive Evaluation
Begun in 1973, the Review of Progress in Quantitative Nondestructive Evaluation (QNDE) is the premier international NDE meeting designed to provide an interface between research and early engineering through the presentation of current ideas and results focused on facilitating a rapid transfer to engineering development.
This site provides free, public access to papers presented at the annual QNDE conference between 1983 and 1999, and abstracts for papers presented at the conference since 2001.
Abstract
Quantitative multiparameter ultrasonic methods are under development for the evaluation of composite materials. Dual frequency, throughtransmission, tone burst signals are used to provide calibrated attenuation data and the frequency dependence thereof. Pulse-echo, spike pulse signals are used to obtain depth information for internal reflectors. Monostatic and bistatic backscatter and bistatic forwardscatter techniques are also used to increase sensitivity to small flaws. Example results are presented for silicon carbide (SiC) fiber reinforced lithium alumino silicate (LAS) glass-ceramic matrix composites. Results include those for manufactured and naturally occurring flaws.
Subject Categories
Copyright
Sat Aug 01 00:00:00 UTC 1987
Collections