Generating sinusoidal fringe by defocusing: potentials for unprecedentedly high-speed 3-D shape measurement using a DLP projector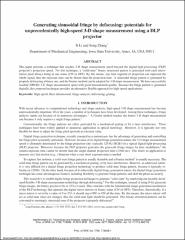 Abstract
This paper presents a technique that reaches 3-D shape measurement speed beyond the digital-light-processing (DLP) projector's projection speed. For this technique, a "solid-state" binary structured pattern is generated with each micromirror pixel always being at one status (ON or OFF). By this means, any time segment of projection can represent the whole signal, thus the exposure time can be shorter than the projection time. A sinusoidal fringe pattern is generated by properly defocusing a binary one, and the Fourier method can be adopted for 3-D shape measurement. We have successfully reached 2000 Hz 3-D shape measurement speed with good measurement quality. Because the fringe pattern is generated digitally, this proposed technique provides an alternative flexible approach for high-speed applications.
Comments
This is a conference proceeding from Interferometry XV: Techniques and Analysis 7790 (2010): 1, doi:10.1117/12.860179. Posted with permission.
Copyright 2010 Society of Photo-Optical Instrumentation Engineers. One print or electronic copy may be made for personal use only. Systematic electronic or print reproduction and distribution, duplication of any material in this paper for a fee or for commercial purposes, or modification of the content of the paper are prohibited.
Subject Categories
Copyright
Fri Jan 01 00:00:00 UTC 2010
Collections