Analysis of Heat Input Effects in Passive Thermographic NDE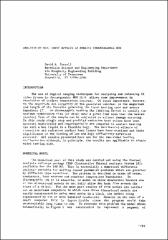 Series
Review of Progress in Quantitative Nondestructive Evaluation
Begun in 1973, the Review of Progress in Quantitative Nondestructive Evaluation (QNDE) is the premier international NDE meeting designed to provide an interface between research and early engineering through the presentation of current ideas and results focused on facilitating a rapid transfer to engineering development.
This site provides free, public access to papers presented at the annual QNDE conference between 1983 and 1999, and abstracts for papers presented at the conference since 2001.
Abstract
The use of digital imaging techniques for analysing and enhancing IR video frames in thermographic NDE [1–6] allows some improvement in resolution of surface temperature contrast. Of equal importance, however, to the magnitude and longevity of the generated contrast is the magnitude and length of the function governing the input heating rate and source impedance [7], In thermogaphic testing the limiting factor is usually the maximum temperature rise (or drop) over a given time span that the heated (cooled) face of the sample can be subjected to without damage occuring. In this study single step and profiled radiative heat pulses have been assessed numerically and experimentally and compared to contact heating (as with a hot liquid in a flexible bag). The detrimental effects of convective and radiative surface heat losses have been examined and their significance to the testing of low and high diffusivity materials assessed. All results presented here are for the two-sided testing configuration although, in principle, the results are applicable to single sided testing also.
Copyright
Sun Jan 01 00:00:00 UTC 1989
Collections