From Waste to Cloth: Sustainable Textile Innovation in Uganda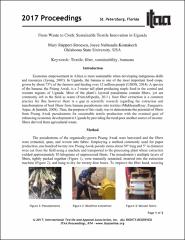 Series
International Textile and Apparel Association (ITAA) Annual Conference Proceedings
The first national meeting of textile and clothing professors took place in Madison, Wisconsin in June 1959. With a mission to advance excellence in education, scholarship and innovation, and their global applications, the International Textile and Apparel Association (ITAA) is a professional and educational association of scholars, educators, and students in the textile, apparel, and merchandising disciplines in higher education.
This site provides free, public access to the ITAA annual conference proceedings beginning in 2015. Previous proceedings can be found by following the "Additional ITAA Proceedings" link on the left sidebar of this page.
Abstract
Economic empowerment in Africa is most sustainable when developing indigenous skills and resources. In Uganda, the banana is one of the most important food crops, grown by about 75% of the farmers and feeding over 12 million people. A species of the banana, the Pisang Awak, is a 3-meter tall plant producing staple food in the central and western regions of Uganda. Most of the plant's layered pseudstems contain fibers, yet are commonly left in the field as waste. Bast fiber extraction is a common practice for flax, however there is a gap in scientific research regarding the extraction and transformation of bast fibers from banana pseudostems into for textiles. Thus, the purpose of this study was to demonstrate the potential of fibers from Pisang Awak pseudostems for sustainable textile production with the eventual goal of enhancing economic development in Uganda by providing the rural poor another source of income from extracted fibers derived from agricultural waste.
Subject Categories
Collections