Modeling and Model Validation of a Chemical Injection Sprayer System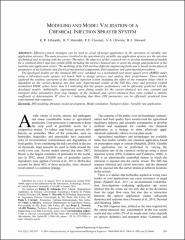 Department
Agricultural and Biosystems Engineering
Abstract
Efficient control strategies can be used to avoid off-target application in the operation of variable rate application sprayers. The main processes involved in the operation of a variable rate application sprayer are the injection of chemical and its mixing with the carrier. Therefore, the objective of this research was to develop mathematical models for a chemical direct injection system (DIS) including the carrier-chemical mix to assist the design and prediction of the variable rate application errors. The modeling of the DIS involves different engineering fields and is based on the physical parameters of the hydraulic and electrical-mechanical components, fluid equations and experimental procedures.
The developed models for the chemical DIS were validated via a normalized root mean square error (RMSE) index using a laboratory-scale sprayer test bench built to design sprayers and analyze their performance. These models captured the realistic operation of the chemical injection system including the effect of the transport delay which is dependent on the carrier-chemical mix flow rate. Experimental results of the DIS flow rates and pressure yielded normalized RMSE values lower than 0.4 indicating that the sprayer performance can be efficiently predicted with the developed models. Additionally, experimental curve fitting results for the carrier-chemical mix time constant and transport delay parameters from step changes of the chemical and carrier-chemical flow rates yielded a statistic coefficient of determination R2 close to 1 indicating that these DIS parameters can be efficiently predicted from experimental step responses.
Comments
This article is from Applied Engineering in Agriculture. 32(3): 285-297 . (doi: 10.13031/aea.32.10606). Posted with permission.
Subject Categories
Copyright
Fri Jan 01 00:00:00 UTC 2016
Collections