Undergraduate student mentoring: What do students think?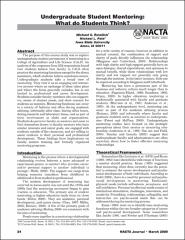 Department
Agricultural Education and Studies
Abstract
The purpose of this census study was to explore undergraduate student perceptions of mentoring in a College of Agriculture and Life Science (CALS). An analysis of the responses from 532 respondents found that students believe that faculty in CALS often practice the mentoring functions except for the direct assistance, which students believe sometimes occurs. Undergraduate students take a broad view of mentoring. They view it as an engaging and interactive process where an exchange of ideas takes place and where the focus generally includes, but is not limited to, professional and career development. Students consider faculty members who are supportive, aware of student needs, and show concern for students as mentors. Mentoring functions can occur in a variety of fashions and often during academic advising, informally after class, during office hours, during research and laboratory times, and as part of their involvement in clubs and organizations. Students do perceive faculty as mentors and seem to find themselves drawn to faculty mentors who have similar interests and career goals, are engaged with students outside of the classroom, and are willing to assist students in their personal and professional development. These findings have implications on faculty mentor training and formally organized mentoring programs.
Comments
This article is from NACTA Journal 53 (2009): 24. Posted with permission.
Subject Categories
Copyright
Thu Jan 01 00:00:00 UTC 2009
Collections