Knowledge of Federal Taxation in the Millennial Age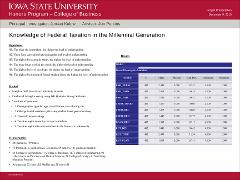 Series
Honors Projects and Posters
The Honors project is potentially the most valuable component of an Honors education. Typically Honors students choose to do their projects in their area of study, but some will pick a topic of interest unrelated to their major.
The Honors Program requires that the project be presented at a poster presentation event. Poster presentations are held each semester. Most students present during their senior year, but may do so earlier if their honors project has been completed.
This site presents project descriptions and selected posters for Honors projects completed since the Fall 2015 semester.
Abstract
The goal of this study is to build upon previous research, studying the knowledge of taxation in elementary children, by researching the same idea in college-aged students. To do so, students were surveyed regarding various demographics and taxation topics in terms of general knowledge, taxation concepts that are currently relevant to our target subject, and taxation topics that will be relevant to them in the future. Our results showed that students had a moderate level of general knowledge that was consistent across variables. They also showed that in terms of taxation topics that are currently relevant, being older and having more in student loans led to a generally higher level of understanding. For topics with future relevance, a higher economic status correlated to a higher understanding. We also found that several of the variables tested led to insignificant correlations. This led us to conclude that student's tax knowledge may be set prior to attending college, and this age group as a whole still lacks a great deal of tax knowledge that they are expected to possess as contributing members of society.
Subject Categories
Collections