Key Factors Affecting Entrepreneurial Intention: An Exploratory Study among Fashion Students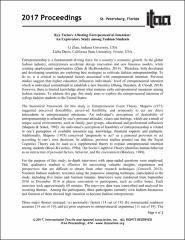 Series
International Textile and Apparel Association (ITAA) Annual Conference Proceedings
The first national meeting of textile and clothing professors took place in Madison, Wisconsin in June 1959. With a mission to advance excellence in education, scholarship and innovation, and their global applications, the International Textile and Apparel Association (ITAA) is a professional and educational association of scholars, educators, and students in the textile, apparel, and merchandising disciplines in higher education.
This site provides free, public access to the ITAA annual conference proceedings beginning in 2015. Previous proceedings can be found by following the "Additional ITAA Proceedings" link on the left sidebar of this page.
Abstract
In the global fashion industry, entrepreneurs accelerate design innovation and new business models, while creating employment opportunities. There is limited knowledge about what nurtures early entrepreneurial intentions among fashion students. To address this gap, this study aims to explore the entrepreneurial intention of college fashion students in the United States. The theoretical framework for this study is Entrepreneurial Event Theory. Social Cognitive Theory is used as a supplemental theory to explain entrepreneurial intention among students. In-depth interviews with open-ended questions were employed. This study provides a nuanced understanding of the entrepreneurial intention of fashion students by combining Entrepreneurial Event Theory and Social Cognitive Theory. Personality factors, financial support, information access, social network, and prior exposure to entrepreneurial experience contribute most to entrepreneurship as a career choice. This study is one of the few studies that focused on entrepreneurial intention among fashion students and fashion entrepreneurship education.
Subject Categories
Collections