Comparative Study on Efficacy of CowManager Technology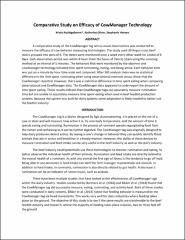 Supplemental Files
Series
Honors Projects and Posters
The Honors project is potentially the most valuable component of an Honors education. Typically Honors students choose to do their projects in their area of study, but some will pick a topic of interest unrelated to their major.
The Honors Program requires that the project be presented at a poster presentation event. Poster presentations are held each semester. Most students present during their senior year, but may do so earlier if their honors project has been completed.
This site presents project descriptions and selected posters for Honors projects completed since the Fall 2015 semester.
Abstract
A comparative study of the CowManager tag versus visual observations was conducted to measure the efficacy of cow behavior measuring technologies. The study used 30 Angus cross beef steers grouped into pens of 6. The steers were monitored once a week every other week for a total of 6 days. Each observation period was within 4 hours from the hours of 7am to 11am using the scanning method at an interval of 5 minutes. The behaviors that were monitored by the observer and CowManager technology included time spent ruminating, eating, and being active. Each behavior time was put on an hour time scale and compared. After SAS analysis there was no statistical difference in the time spent ruminating when using observational methods versus those that the CowManager reported. However, there was a statistical difference in time spent eating when comparing observational and CowManager data. The CowManager data appeared to under report the amount of time spent eating. These results indicate that CowManager tags can accurately measure rumination time but are unable to accurately measure feeding time when used in beef cattle production systems. This is significant for beef cattle research and industries looking to use this technology.
Subject Categories
Collections