Using X-ray Diffraction to Determine Stresses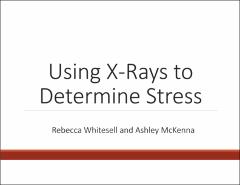 Series
Symposium on Undergraduate Research and Creative Expression
The Symposium provides undergraduates from all academic disciplines with an opportunity to share their research with the university community and other guests through conference-style oral presentations. The Symposium represents part of a larger effort of Iowa State University to enhance, support, and celebrate undergraduate research activity.
Though coordinated by the University Honors Program, all undergraduate students are eligible and encouraged to participate in the Symposium. Undergraduates conducting research but not yet ready to present their work are encouraged to attend the Symposium to learn about the presentation process and students not currently involved in research are encouraged to attend the Symposium to learn about the broad range of undergraduate research activities that are taking place at ISU.
The first Symposium was held in April 2007. The 39 students who presented research and their mentors collectively represented all of ISU's Colleges: Agriculture and Life Sciences, Business, Design, Engineering, Human Sciences, Liberal Arts and Sciences, Veterinary Medicine, and the Graduate College. The event has grown to regularly include more than 100 students presenting on topics that span the broad range of disciplines studied at ISU.
Department
Center for Nondestructive Evaluation
Abstract
In recent years 3D printing has emerged as an increasingly intriguing technology: used to create toys, models, and even full size houses. Though most common in plastics, 3D printing is being considered for commercial metal products as well. As in other casting and processing techniques, the properties of materials that are 3D printed can vary greatly. For example, in the manufacturing of hot metals, controlled cooling is necessary to avoid embrittlement. In 3D printed metals, one property of particular concern is residual stress, as it can cause metal parts to warp when cut free from their base plates. It is therefore, important to understand how the 3D printing process effects the distribution of the stresses in parts. High energy x-ray diffraction (HEXD) is one of the tools that can be used to investigate residual stresses. HEXD measures volumetric strain profiles, which can then be analyzed to find out more about the stress characteristics of the part. We will use these profiles to measure the residual stress depth in several aluminum bars and present the results.
Subject Categories
Collections