Textile & Clothing Undergraduates' Recent Life Experiences: Are Students Stressed-Out?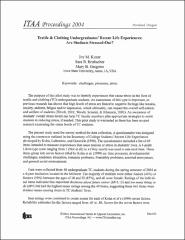 Department
Apparel, Events and Hospitality Management
Abstract
The purpose of this pilot study was to identify experiences that cause stress in the lives of textile and clothing undergraduate students. An assessment of this type is important, as previous research has shown that high levels of stress are linked to negative feelings like tension, anxiety, sadness, fatigue and/or depression, which ultimately can impact the overall self-esteem and welfare of students.
Comments
This proceeding is from 61st Annual Conference of the International Textile and Apparel Association (2004): pp. 1-2. Posted with permission.
Copyright
Thu Jan 01 00:00:00 UTC 2004
Collections