Innovative strategies for managing swine welfare during the COVID-19 pandemic in Iowa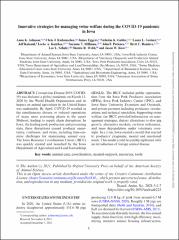 Authors
Rademacher, Christopher J.
Department
Veterinary Diagnostic and Production Animal Medicine
Animal Science
Agricultural and Biosystems Engineering
College of Agriculture and Life Sciences
Economics
Biomedical Sciences
Iowa Pork Industry Center
Abstract
Coronavirus Disease 2019 (COVID-19) was declared a global pandemic on March 11, 2020 by the World Health Organization and its impact on animal agriculture in the United States was undeniable. By April, COVID-19 resulted in the simultaneous closure or reduced operations of many meat processing plants in the upper Midwest, leading to supply chain disruptions. In Iowa, the leading pork production and processing state, these disruptions caused producer uncertainty, confusion, and stress, including time-sensitive challenges for maintaining animal care. The Iowa Resource Coordination Center (IRCC) was quickly created and launched by the Iowa Department of Agriculture and Land Stewardship (IDALS). The IRCC included public representation from the Iowa Pork Producers Association (IPPA), Iowa Pork Industry Center (IPIC), and Iowa State University Extension and Outreach, and private partners including producers, veterinarians, and technical specialists. Supporting swine welfare, the IRCC provided information on management strategies, dietary alterations to slow pig growth, alternative markets, on-farm euthanasia, and mass depopulation under veterinary oversight. In a crisis, Iowa created a model that reacted to producers' pragmatic, mental and emotional needs. This model could be quickly replicated with an introduction of foreign animal disease.
Comments
This is the version of record for the article Johnson, A., C. Rademacher, J. Eggers, N. Gabler, L. Greiner, J. Kaisand, L. Karriker et al. "Innovative strategies for managing swine welfare during the COVID-19 pandemic in Iowa." Translational Animal Science 5, no. 4 (2021). Available online at DOI: 10.1093/tas/txab225. Copyright 2021 The Author(s). Attribution 4.0 International (CC BY 4.0). Posted with permission.
Keywords
animal care

,
coordination

,
mental-support

,
resources

,
tools
Subject Categories
Collections