Wind Turbine Blade Recycling: An Economic Decision Framework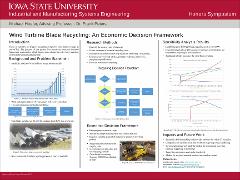 Series
Honors Projects and Posters
The Honors project is potentially the most valuable component of an Honors education. Typically Honors students choose to do their projects in their area of study, but some will pick a topic of interest unrelated to their major.
The Honors Program requires that the project be presented at a poster presentation event. Poster presentations are held each semester. Most students present during their senior year, but may do so earlier if their honors project has been completed.
This site presents project descriptions and selected posters for Honors projects completed since the Fall 2015 semester.
Department
Industrial and Manufacturing Systems Engineering
Abstract
The objective of this project is to explore the economics behind wind turbine blade recycling. The project will determine the current cost of disposing wind turbine blades, and investigate the cost of pursuing other end-of-life alternatives. The goal of the project is to model the economic factors that cause a wind farm owner to dispose of blades in a certain way. Examples of economic factors would include cost of recycling equipment, distance from wind farm to equipment, selling price of recycled output, etc. The project will involve studying the cost of existing methods of wind blade decommissioning, as well as proposing costs for recycling methods.
Subject Categories
Collections