What Does It Cost to Harvest Grass Silage?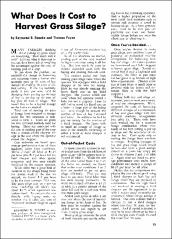 Department
Extension and Experiment Station Publications
Abstract
Many farmers thinking about putting up grass silage are wondering, "How much will it cost?" Let's see what it does cost so you can do a better job of weighing the advantages against the costs of ensiling part of a crop.
Subject Categories
Collections